Twilight Jumpers at Great Meadow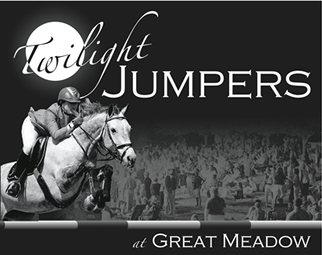 Twilight Jumpers at Great Meadow is in it's ninth year and is an evening event held on a series of Friday nights under the lights at Great Meadow (The Plains, VA). 2019 Dates for the series are May 24th, June 21st, July 19th, and August 9th.
Modeled after Great Meadow's highly successful Twilight Polo event, Twilight Jumpers offers two invitational classes each night. Proceeds benefit the 501(c)(3) non-profit foundation, High Performance Equestrian Foundation.
Gates open at 6:30pm. The first class ($500 Child/Adult Amateur Class at 1.05m) begins at 7 pm. The second class ($5000 at 1.30m) will start at 8:30 pm. The class size is limited to 20 competitors, by invitation only. The evening features top competition, intense tailgating, and dancing in the pavilion after the competition.
Whether you want to compete, reserve a rail side box for 6, tailgate, or just picnic on the grass for $40/carload, it's a great way to support a worthy non-profit organization and enjoy the show jumping at Great Meadow!
Want to sponsor the show or have a ringside box or tailgate spot for the 2019 season? Want to compete?
Call 540-454-6673 today
Physical address for Directions to Twilight Jumpers:
5089 Old Tavern Road
The Plains, VA 20198
For more information on the event email equestrianfoundation@gmail.com or call 540-454-6673.